Health Library
Warning signs: Help Prevent Teen Suicide in Arizona
Teens in Arizona are more likely to commit suicide compared to the national average, according to the CDC.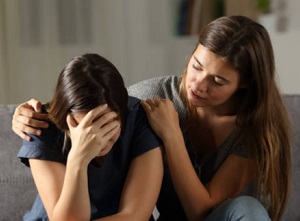 Teens in Arizona are more likely to commit suicide compared to the national average, according to the CDC.
In fact, a recent wave of teen suicides prompted Arizona lawmakers to pass SB 1468. Also known as the Mitch Warnock Act, the law expands suicide awareness and prevention training in public schools to support Arizona's teens and pre-teens.
When the new law passed in May 2019, Governor Doug Ducey said, "Suicide has become a significant public health issue … I'm glad that Arizona is taking action by training (school officials) how to identify the warning signs that lead to suicide."
In support of teens and SB 1468, BCBSAZ is sharing the warning signs and action we all can take if we're worried about a teen in our life.
Watch for outward signs
Suicide is the second leading cause of death nationwide in children and young adults (age 10 to 24). People who consider suicide often feel that there is no way out of their sadness or pain, and they are helpless. Some see it as the only solution to their problems. These feelings may lead to outward signs such as:
Making threats or talking about hurting or killing themselves
Acting reckless, without seeming to think about it
Having dramatic mood changes
Withdrawing from family and friends
Seeing no reason for living
Giving away possessions
Have a candid conversation
Many of us are uncomfortable talking about suicide. But asking your child if he or she is depressed—or thinking about suicide—won't put dangerous thoughts in your child's head. Instead, it can reassure them that somebody cares. It also lets your child talk about problems—rather than bottling them up. You might ask:
Are you feeling sad or depressed?
Are you thinking about hurting or killing yourself?
Have you ever thought about hurting or killing yourself?
Any child with suicidal thoughts needs to be seen by a mental health professional, immediately.

Video: What I Wish I Could Tell You Today

Getting Help in Arizona
Teen suicide is preventable. We need to learn to recognize the warning signs and know where to turn for help.
To learn more about the link between depression and suicide, visit Mobilize AZ. This is Blue Cross Blue Shield of Arizona's source for mental health information.
For more advice on how to help someone struggling with suicidal thoughts, call the National Suicide Prevention Lifeline (1-800-273-TALK [8255]), or Arizona's Teen Lifeline (800-248-TEEN [8336]).
If you're struggling yourself, these hotlines provide confidential support 24/7.

Sources:
Governor Ducey Signs Bill Combating Teen Suicide
Teen Suicide in Arizona, America's Health Rankings, United Health Foundation
Teen suicide: Know the risk factors
Disclaimer
This information is provided for educational purposes only. Individuals should always consult with their healthcare providers regarding medical care or treatment, as recommendations, services or resources are not a substitute for the advice or recommendation of an individual's physician or healthcare provider. Services or treatment options may not be covered under an individual's particular health plan.