Cosmic cucumber wrap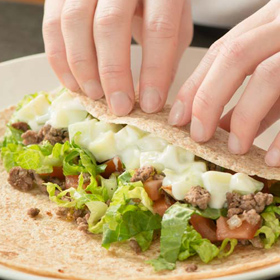 View step-by-step instructions

Makes 1 serving.
Ingredients
1 ounce lean ground beef
1 tablespoon onion, chopped
1 cup romaine lettuce, shredded
1/4 cup fresh tomatoes, diced
1/4 cup cucumber, diced
1 whole-wheat tortilla (8 inches)
1 tablespoon fat-free ranch salad dressing
Directions
Brown ground beef and onion in skillet over medium heat. Drain excess fat.
Mix lettuce and tomato with ground beef mixture.
Chop cucumber and mix with salad dressing.
Place tortilla on a plate and spread with beef mixture. Top with cucumber and salad dressing mixture, and roll wrap.
Each serving provides an excellent source of vitamins A and C and folate and is a good source of potassium and fiber.
Nutrition information
Serving size: 1 wrap. Amount per serving: 238 calories, 5.4g total fat (1g saturated fat), 22mg cholesterol, 33g carbohydrates, 13g protein, 4g dietary fiber, 373mg sodium.
Disclaimer
This information is provided for educational purposes only. Individuals should always consult with their healthcare providers regarding medical care or treatment, as recommendations, services or resources are not a substitute for the advice or recommendation of an individual's physician or healthcare provider. Services or treatment options may not be covered under an individual's particular health plan.