Health Library
Stay up-to-date with your kid's shots
We want to help you keep your family healthy and safe—and that starts with keeping track of your children's immunizations.
Child immunizations are part of your benefit plan. Making sure they're up-to-date helps protect your family from illness. Plus, it's the law in Arizona that school-age children must have certain immunizations (unless they have an exemption).
For most plans, these services are covered only when you use an in-network doctor. Based on your plan, you may not have any out-of-pocket cost for immunizations from an in-network doctor or other healthcare worker.
Check the chart below for children from birth through age 6: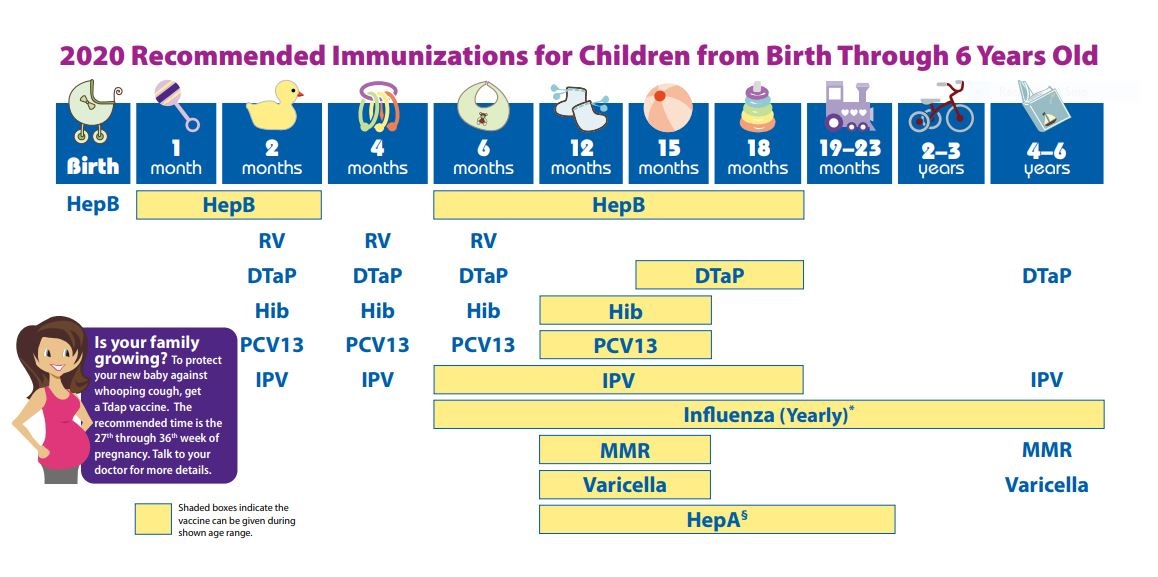 Vaccine Abbreviation Key (See page 2 of vaccine chart for details)
Varicella vaccine protects against chickenpox.
Hib vaccine protects against Haemophilus influenzae type b.
HepA vaccine protects against hepatitis A.
HepB vaccine protects against hepatitis B.
Flu vaccine protects against influenza.
MMR vaccine protects against measles, mumps, and rubella.
DTaP vaccine protects against diphtheria, tetanus, and pertussis (whooping cough).
IPV vaccine protects against polio.
PCV13 vaccine protects against pneumococcus.
RV vaccine protects against rotavirus.
If your child misses a shot, you don't need to start over, just go back to your child's doctor for the next shot. Talk with your child's doctor if you have questions about vaccines.
* Two doses given at least four weeks apart are recommended for children aged 6 months through 8 years of age who are getting an influenza (flu) vaccine for the first time and for some other children in this age group.
§ Two doses of HepA vaccine are needed for lasting protection. The first dose of HepA vaccine should be given between 12 months and 23 months of age. The second dose should be given 6 to 18 months later. HepA vaccination may be given to any child 12 months and older to protect against HepA. Children and adolescents who did not receive the HepA vaccine and are at high-risk, should be vaccinated against HepA.
If your child has any medical conditions that put him at risk for infection or is traveling outside the United States, talk to your child's doctor about additional vaccines that he may need.
Not sure when shots are needed? Visit the CDC website to find:
Disclaimer
This information is provided for educational purposes only. Individuals should always consult with their healthcare providers regarding medical care or treatment, as recommendations, services or resources are not a substitute for the advice or recommendation of an individual's physician or healthcare provider. Services or treatment options may not be covered under an individual's particular health plan.