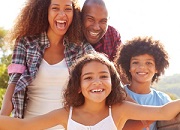 Your Health Matters!
That's why it is so important that you take advantage of the preventive care benefits available through your health plan.
Preventive coverage includes things like annual wellness visits and procedures that may help to spot minor problems before they become major health conditions.
MAKE YOUR APPOINTMENT TODAY
Just look at what's available to you and family members on your Blue Cross Blue Shield of Arizona (BCBSAZ) plan:
Annual wellness visit
Colonoscopies
Immunizations
Mammograms
Nutritional counseling1
Well-baby & Well-child checkups
And more!
Find Out More
Visit azblue.com/member to find healthcare providers (or to see if your doctor is) in your plan's network.
1. Nutritional counseling is a preventive service for certain medical conditions. To be covered, a provider in your plan's network must provide preventive services. Whether a service is considered preventive will depend on information your provider submits with the claim. Your provider may order or provide non-preventive care in combination with preventive care. Some plans require a co-pay when visiting a provider.