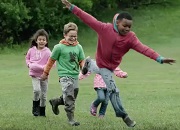 The best way to help your kids to grow up to be healthy adults is to teach them healthy habits at an early age.

At BCBSAZ, we recommend the 5-2-1-0 daily goal from our Walk On! Challenge to develop those healthy habits early. It helps children want to be more active and eat foods that are good for them. Here's an overview of the goal:

Kids love games, so think of it as a numbers game. It's so easy, children of all ages can "play"— and everyone's a winner when they meet the 5-2-1-0 goal each day!


Let's Reverse the Trend

According to the latest State of Obesity report, Arizona now ranks seventh in the nation with a 19.8 percent obesity rate for 10- to 17-year-olds. Compared to just a few years ago, this is an increase – up from 11 percent.

Keep in mind that it's not too late to reverse the trend and encourage the children of Arizona to eat better and be more active.

To learn how you can give child you love the gift of healthy habits for life, click here for tips on the 5-2-1-0 goal.

The Walk On! Challenge is part of Nourishing Arizona, Blue Cross Blue Shield of Arizona's initiative to improve the health of Arizonans through nutrition education and healthy eating programs. We are proud to work with a variety of organizations across the state to encourage healthy habits among our friends and neighbors.