Health Library
Opioid crisis: Q&A with Pam Kehaly, our CEO
Opioid crisis: Q&A with CEO Pam Kehaly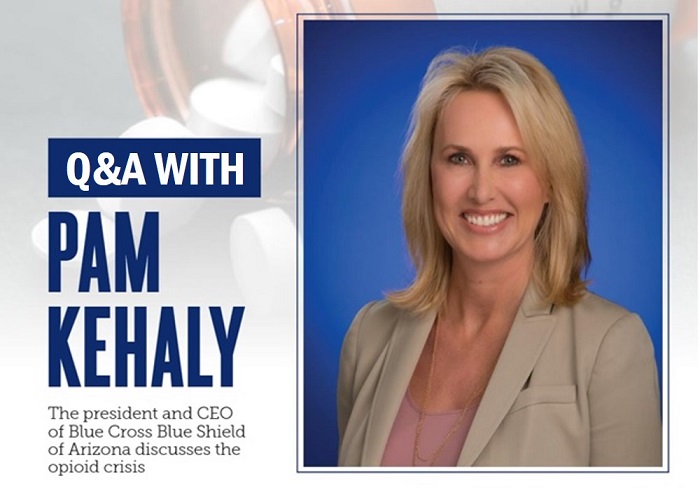 1. We know that opioid addiction is a problem nationwide, but can you tell us more about the situation in Arizona?

Suspected opioid overdoses and deaths continue to rise in Arizona. The total number of deaths (counted since 2017) jumped 55 percent in a recent three-month period, from 1,645 in August 2018 to 2,547 in November 2018.

Beyond the numbers, which rise daily, is the economic and societal toll, including the devastation of families. There are people, and those who love them, behind each of these numbers, with stories of loss and fear. The misuse of opioids crosses age, race, class, gender, politics, and neighborhoods. BCBSAZ believes this is an all-of-us problem that requires an all-of-us solution.

2. What is the Mobilize AZ initiative, and what is it trying to accomplish?

Mobilize AZ is a multifaceted program focused on improving Arizona's overall health status in three specific areas: substance overuse, mental health and diabetes. In all three of these focus areas, Arizonans' health outcomes are poorer than the national average.

The substance overuse initiative specifically is aimed at addressing the misuse of opioids and other substances to reduce overdose-related deaths in Arizona. BCBSAZ is investing $10 million over three years in this initiative for prevention, treatment, and recovery programs to help providers, the community, and local organizations fight against the opioid epidemic.

3. Why is Blue Cross Blue Shield of Arizona taking a lead role in this initiative?

Inspiring health across the state of Arizona is the foundation of what we do as the state's largest locally owned health insurer. By putting an emphasis on key community health issues, BCBSAZ aims to improve the health of all Arizonans in every part of the state.

A report from the Centers for Disease Control and Prevention (CDC) shows life expectancy in the U.S. has declined for the second time in the last three years. The decline is unlike anything our country has seen since the early 1900s. In its report, the CDC noted that two factors, drug overdoses and suicide, have contributed significantly to America's shrinking life expectancy. Drug overdose deaths reached a record high of over 70,000 in 2017, which is close to a 10 percent increase from 2016 and the highest ever in the United States in a single year. The rise in overdose deaths—a 45 percent jump from 2016 to 2017—has been attributed to the opioid epidemic and a spike in deaths involving synthetic opioids such as fentanyl.

This decline in life expectancy is deeply troubling and illustrates why our focus on Making Arizona Healthier is so important. Our Mobilize AZ initiative supports community efforts that treat and prevent substance use disorders.

4. What is the Mobilize AZ grant program all about?
The Mobilize AZ grant program helps strengthen statewide activities and resources by investing in Arizona community organizations already doing the important work.
In an effort to accelerate the fight against the opioid epidemic, BCBSAZ has awarded nearly $1.5 million through the Mobilize AZ grant program to seven Arizona organizations involved in education, treatment, and recovery. BCBSAZ is accepting proposals for Mobilize AZ grants from nonprofit organizations, academic institutions, and for-profit organizations that are seeking resources to further their efforts and turn the tide against substance misuse.

5. Where can people go for more information on Mobilize AZ and on opioid misuse in general?
Our website, www.MobilizeAZ.com, is a great place to find resources and more information on turning the tide against the opioid epidemic and substance use disorder.

Note: The above Q&A is an excerpt from an article that originally appeared in the January 2019 issue of Front Door magazine. For the full article, click here.
Disclaimer
This information is provided for educational purposes only. Individuals should always consult with their healthcare providers regarding medical care or treatment, as recommendations, services or resources are not a substitute for the advice or recommendation of an individual's physician or healthcare provider. Services or treatment options may not be covered under an individual's particular health plan.