Health Library
Cancer screenings down 25%: Important reminder to schedule wellness visits
The pandemic has caused many Americans to delay important routine healthcare vital to keeping themselves and their families healthy, like critical immunizations and preventive cancer screenings. We urge all members to get up to date on their routine healthcare needs.
1. Get screened: If you're due for preventive care, tests or screenings, make an appointment. These measures are designed to keep you healthy and help your doctor spot certain conditions before they become more serious.
2. Consider telehealth: If you're uncomfortable or unable to go in person to your physician's practice, check with your provider's office to see if they have a telehealth option.
3. Get vaccinated: Member non-COVID immunizations have declined 5% since 2019. Get up to date on vaccinations, including the COVID-19 vaccine.
4. Don't neglect mental health: Given the adverse effects the events of the past two years have had on mental health, such as increasing anxiety, depression and loneliness, it's especially important to prioritize this aspect of your health now. You can search for a behavioral health provider at azblue.com/FindaDoctor or schedule an appointment for an online visit with a provider at BlueCareAnywhereAZ.com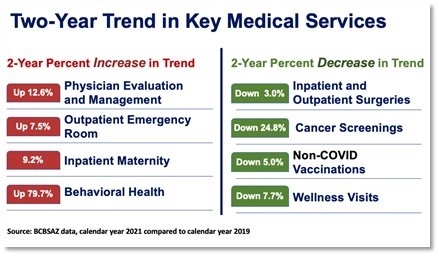 The health of our members is our priority, and most concerning to us here at BCBSAZ is the drastic reduction in cancer screenings and wellness visits.
Take the steps to ensure you and your loved ones are healthy. If you or a loved one has missed their annual wellness visits, schedule them today! Find an in-network doctor using our "Find a Doctor" resource at www.azblue.com/FindADoctor or log in to your MyBlue account.
Blue is committed to keeping our members healthy, and it is important to us that our community healthy, not only from COVID-19, but all diseases that can hinder our community.
Disclaimer
This information is provided for educational purposes only. Individuals should always consult with their healthcare providers regarding medical care or treatment, as recommendations, services or resources are not a substitute for the advice or recommendation of an individual's physician or healthcare provider. Services or treatment options may not be covered under an individual's particular health plan.