Health Library
Make a list of your medicines
Some medicines (and supplements) shouldn't mix. That's why it's important to tell your doctor about any medicines or supplements you take. If you take multiple meds, it can be a lot to keep track of. Making a list—and bringing it to each medical appointment—can help. Here's what to include.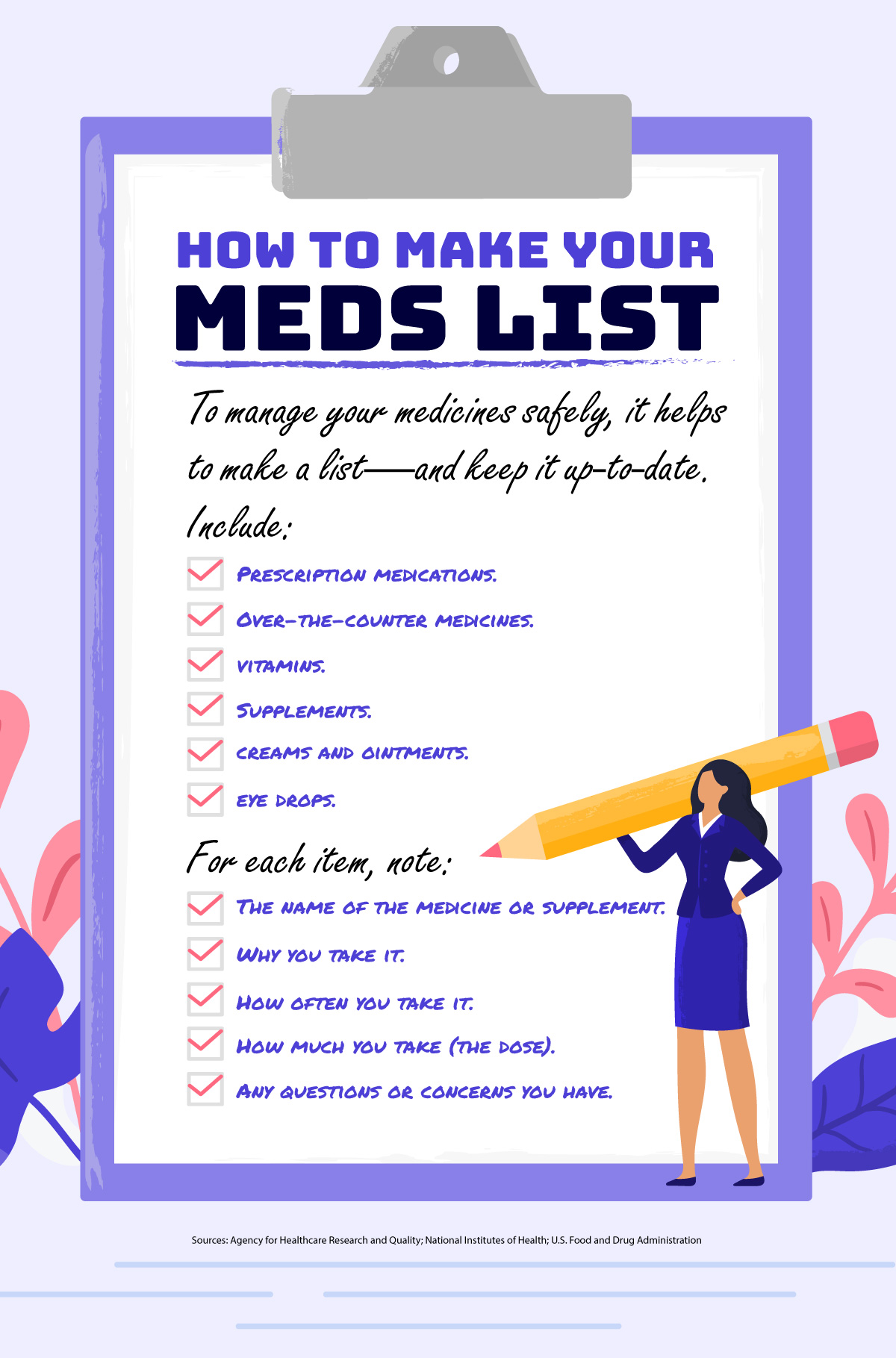 Another option: Bring your medicines with you. Your doctor can look at the containers for the information they need to help you stay safe. Check out our Medications page for more on medication safety, or learn more ways to make the most of your next appointment.
Sources
Agency for Healthcare Research and Quality. "Please Bring ALL Your Medicines to Your Next Appointment." https://www.ahrq.gov/sites/default/files/wysiwyg/professionals/quality-patient-safety/patient-family-engagement/pfeprimarycare/medmanage-ptfactsheet.pdf.
Food and Drug Administration. "Mixing Medications and Dietary Supplements Can Endanger Your Health." https://www.fda.gov/consumers/consumer-updates/mixing-medications-and-dietary-supplements-can-endanger-your-health.
National Institute on Aging. "My Dietary Supplement and Medicine Record." https://ods.od.nih.gov/pubs/DietarySupplementandMedicineRecord.pdf.
National Institute on Aging. "Worksheet 5: Medications." https://www.nia.nih.gov/sites/default/files/2021-06/worksheet-medications.pdf.
Reviewed 10/26/2022
Disclaimer
This information is provided for educational purposes only. Individuals should always consult with their healthcare providers regarding medical care or treatment, as recommendations, services or resources are not a substitute for the advice or recommendation of an individual's physician or healthcare provider. Services or treatment options may not be covered under an individual's particular health plan.