Health Library
Vaccinations are underway. Blue is here to help.
The COVID-19 journey is one of challenge and tragedy. Thankfully, the vaccine rollout offers hope and a path toward freedoms we have lost over the past months.
The Arizona Department of Health Services (ADHS) is working hard to get all available doses of the vaccine to Arizonans at state sites, county sites, medical facilities, and long-term care facilities.
If you are eligible, we encourage you to register and make an appointment at azdhs.gov. Locations and appointments are being made available every day.


Who is Eligible?
Arizonans who meet eligibility for Phase 1A and 1B in the distribution of the vaccine.*
Healthcare workers

Emergency medical workers

Long-term care facility staff and residents

K-12 school staff and childcare workers

Law Enforcement/ Protective Services

Adults age 75 and older

Adults age 65 and older in select Arizona counties

How Can I Register?
To access vaccine distribution locations and to make an appointment, visit azdhs.gov.

BCBSAZ Joins the COVID Vaccine Effort
ADHS, the National Guard and Blue Cross® Blue Shield® of Arizona (BCBSAZ) launched a vaccine site on January 11 at State Farm Stadium. This new site is open 24 hours a day, 7 days a week. To make this happen, our own BCBSAZ employee volunteers have joined ADHS and the National Guard to staff the new site. Currently all appointments for January and February are full at this location. Other sites will continue to come online with open appointments.


One employee's experience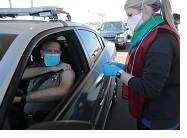 Rachel Jozaites, Medical Policy Development & Research Specialist, was one of the first BCBSAZ employees to join the COVID-19 vaccine effort, arriving for the 6 a.m. volunteer shift at the State Farm Stadium on Jan. 11.
Rachel is a Registered Nurse (RN) and says, time "flew by" once her and others started administering vaccines. Every hour, "tweaks were being made to improve the process and quality of care being delivered."
"Hope was the key takeaway from my experience. It was palpable. One woman was in tears expressing how much getting the vaccine truly meant to her. After the last year with so much fear, tragedy, and isolation, this effort is a big step in the right direction that brings hope to not only those receiving the vaccine, but to all that have gotten to be part of the rollout of this site."


Disclaimer
This information is provided for educational purposes only. Individuals should always consult with their healthcare providers regarding medical care or treatment, as recommendations, services or resources are not a substitute for the advice or recommendation of an individual's physician or healthcare provider. Services or treatment options may not be covered under an individual's particular health plan.