Health Library
Want to save money and time? Visit a retail health clinic
Retail health clinics are becoming more popular as a cost-effective, convenient choice for care
Retail health clinics are becoming more popular as a cost-effective, convenient choice for care.

What happens if your child wakes up with a sore throat? You could take time off from work, make a doctor's appointment, sit around in the waiting room, and eventually see the doctor. Or, you could go to a retail clinic and be done in 30 minutes or less.
If you need care for an earache, sore throat, or other minor health problem, going to a retail health clinic can save you both time and money.
Visits to retail clinics nearly doubled from 2011 through 2015, a Blue Cross Blue Shield Association (BCBSA) study shows. So who's using them? Here's what the study found:
Women use retail clinics at a much higher rate than men do.
Younger adults are more likely to use retail clinics as compared with older adults.
Members with employer-based insurance are more likely than individually insured members to visit a retail clinic.
As you might expect, visits to retail clinics surge during cold and flu season.
The study also showed that members with individual insurance increased their use of the emergency room from 2013 through 2015. They probably didn't know that their share of the costs can be more than 10 times higher at the ER than at a retail clinic, for the very same health condition.
For example, the average out-of-pocket cost for members to receive care for an upper respiratory condition at a retail clinic was $35 in 2015. A trip to the ER for the same health condition cost an average of nearly $400.
According to the study, almost a third of ER visits could have been handled at a retail health clinic instead.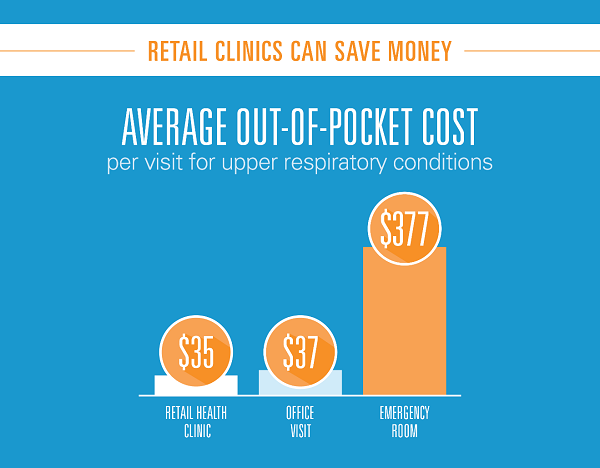 There are thousands of retail clinics across the country, with more opening all the time. Virtually all of them take walk-ins and are open days, evenings, and weekends. For the parent of a sick child, or the college student on a budget, a convenient, low-cost visit to a retail clinic beats other care options time and time again.
To find a retail clinic near you, use the Blue Cross Blue Shield of Arizona Find a Doctor tool at azblue.com/FindaDoctor. Search for "Health Service Clinic/Center" for a list of participating locations.
Visit BCBSA to learn more about the convenience and costs savings of retail clinics.

Source:
Blue Cross Blue Shield Association, Convenience and Costs Savings with Retail Clinics
Disclaimer
This information is provided for educational purposes only. Individuals should always consult with their healthcare providers regarding medical care or treatment, as recommendations, services or resources are not a substitute for the advice or recommendation of an individual's physician or healthcare provider. Services or treatment options may not be covered under an individual's particular health plan.